Welcome Parents, Friends and Visitors

Thank you very much for visiting our website. We hope you will find it interesting and that you get a good idea of what a great school and community we have. See also our Prospectus.

We are very proud of our school which is jointly run by the Diocese of Ely and Cambridgeshire Local Authority. Read Mrs Smith's full message here.

---
Summer Term 2018

Our topic this summer term is Feeling Fit.

It's going to be a very active term with swimming lessons recommencing, cross country championships and kwik-cricket tournaments etc. Please refer to our Newsletter for details on the activities occurring this term.
Royal Wedding Celebration Day

On Friday 17th June, our pupils will be celebrating the forthcoming wedding of Prince Harry and Meghan Markle by dressing in red, white and blue, plus we'll be having a Right Royal Lunch! Congratulations to the happy couple!
Walk to School Week - 21st to 25th May
Our Travel Ambassadors have planned lots of different activities including renaming the days of the week! See also our latest Newsletter.

Mega Monday - Walk to School launch day! Children will be given their sticker collection cards and walking circuit challenge.
Happy Shoesday - Pupils can wear their favourite footwear to school

Wheelie Wednesday - Children are encouraged to get to school on wheels (scooters, bicycles, skateboards, heelies, roller skates) . A change of shoes required for once at school!
Thunder Thursday - A day to increase the inter-class steps challenge on the walking circuit.
Fit Friday - Children can come to school wearing sports kit - for example, football, rugby, hockey, karate, dance, swimming kit, school PE kit, etc.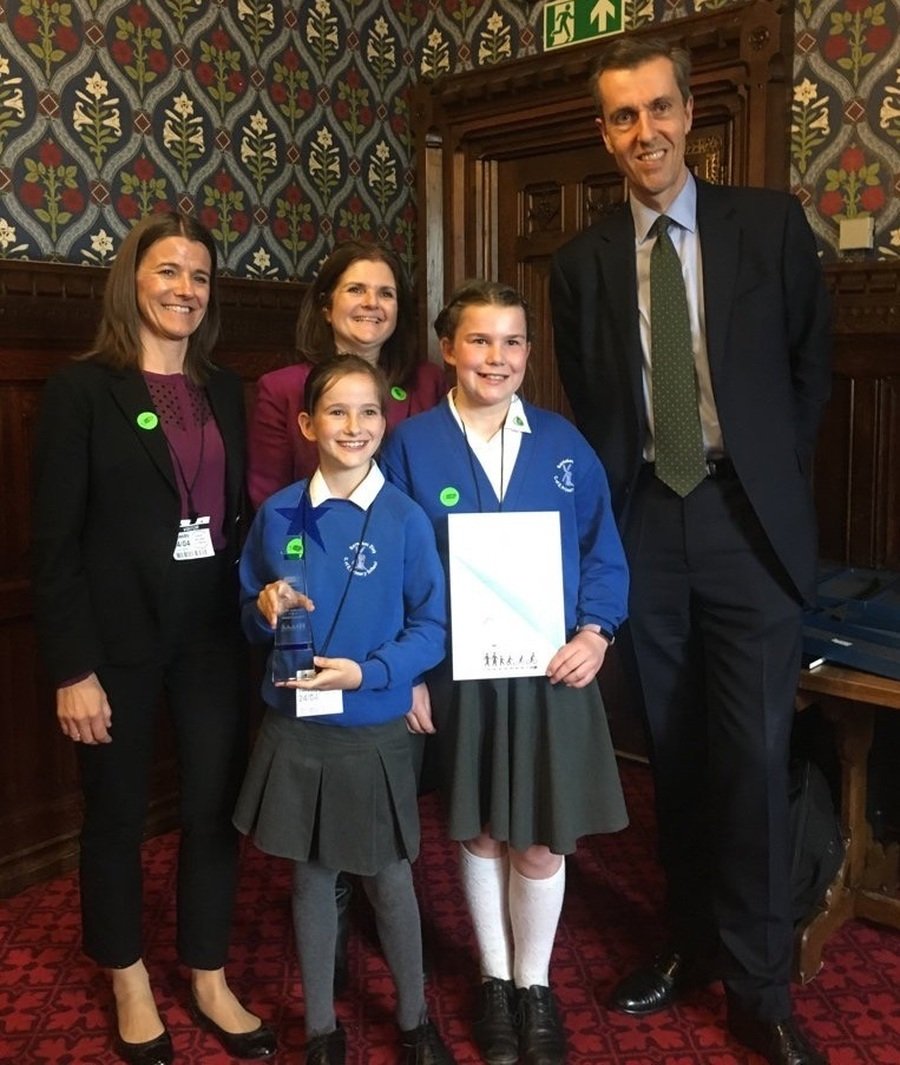 We Are National Award Winners!
On 24th April 2018, Mrs Smith, Mrs Whinney and two Year 5 Junior Travel Ambassadors attended the Modeshift National Travel Awards ceremony at the Houses of Parliament, where it was announced that our school was the winner for National Primary School of the Year!
This was a wonderful surprise! We were presented with a trophy, certificate and banner to show off back at school!
Our school was recognised as the National STARS School of the Year for our efforts to increase levels of walking, cycling and other forms of sustainable transport for the journey to school.
Please see the Modeshift Travel Awards page for further details and Cambridge Evening News.



Ofsted Inspection

On Tuesday 20th March 2018, we had a visit to school by Ofsted as part of regular monitoring checks. Thank you to all the parents who were able to complete the online questionnaire and for those of you who took time out to speak to the Inspector directly.

Please view Ofsted's short inspection report here.

For further information, see School Inspections - A Guide for Parents.
Special Events Photo Gallery

Don't forget to check out photos from our special events here!