School History and Photo Gallery
Building Photographs
Kindly provided by local resident, Val Davison.
Class Photographs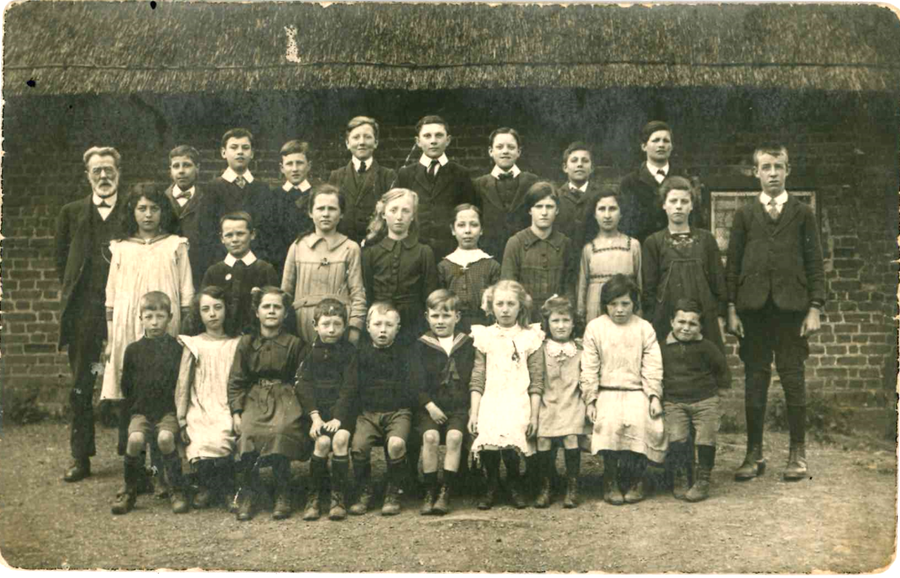 Photo above - 1917?
Back Row — left to right: Mr. Handley, Alfred Stockbridge, Archie Giles, Ken King, Anthony Daniels, Reg. Hobbs, Reg. Hart, Albert Sherman, Harry(Wack) Sherman
Middle Row — left to right: ? Ford or Hilda Cole, Jack Milton, Grace Milton, Kate Winn, Edith Stockbridge, Connie King, ? ? , Gert Surkitt, Bert Beecham
Front Row — left to right: ? Ford ? Ford?, Rose Milton, Frank Kidman, Albert Winn, Fred Giles, Ada Winn, Daisy King, Ruby Sherman, Buster Sherman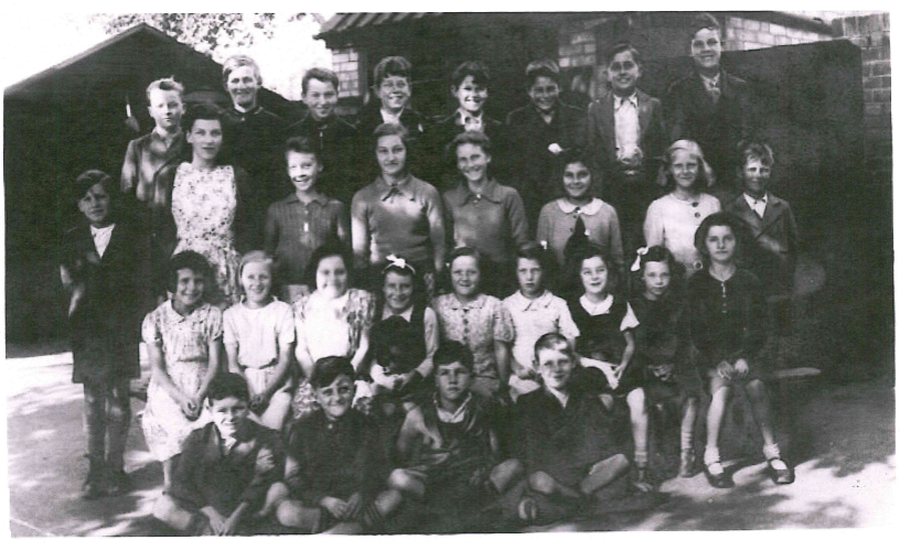 Photo above - 1940/41?
Back Row: (Left to Right) - Derek Merrill - Fred Ellis - Ken Johnson - Geoffrey Holliday - Peter Eastwell - George Hagland - Bert Wright - Trevor Milton
Second Row: (Left to Right) - John Sherman - Betty Lunniss - Edna Drury - Win Sherman - Rosie Smith - Margaret Hall - Pam Lawson - Gordon Lawson
Third Row: (Left to Right) - Sheila Brown - Joan Hart - Eileen Hagland - Doreen Chambers - Jean Daniels - Muriel Jeffs - Hilary Dale - Brenda ????? - Dorothy Jeffs
Bottom Row: (Left to Right) - Ivan Merrill - ???? - George Bull - Victor Smith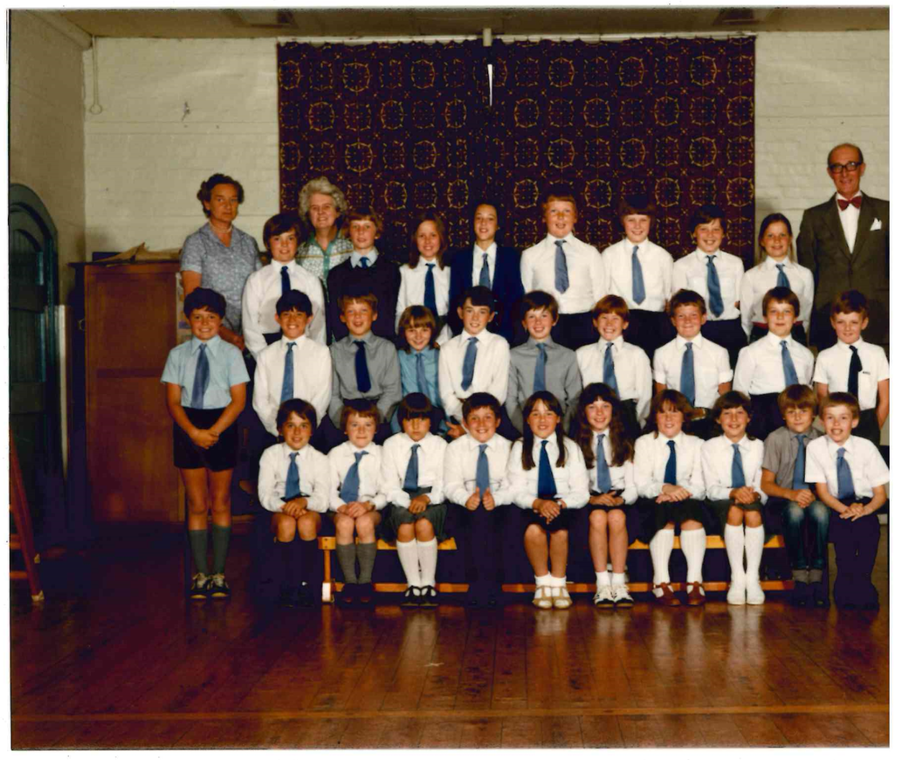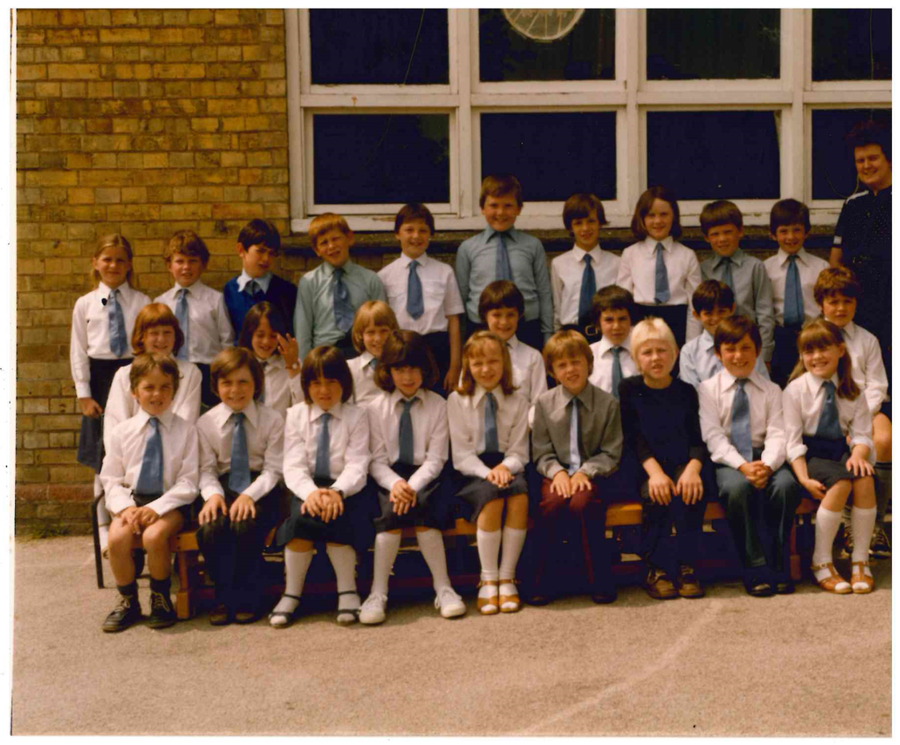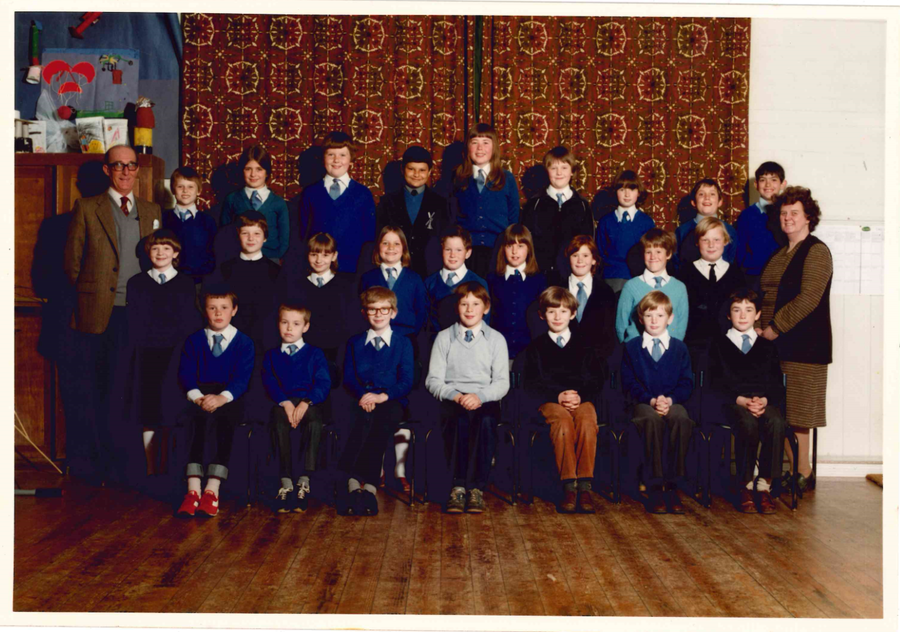 Photos above kindly given to the school by local resident Beryl Bentley (the daughter of Anthony Daniels in the 1917 photograph)
Photos above, kindly provided by Little Gransden resident and current Teaching Assistant at the school, Mrs Hipwell.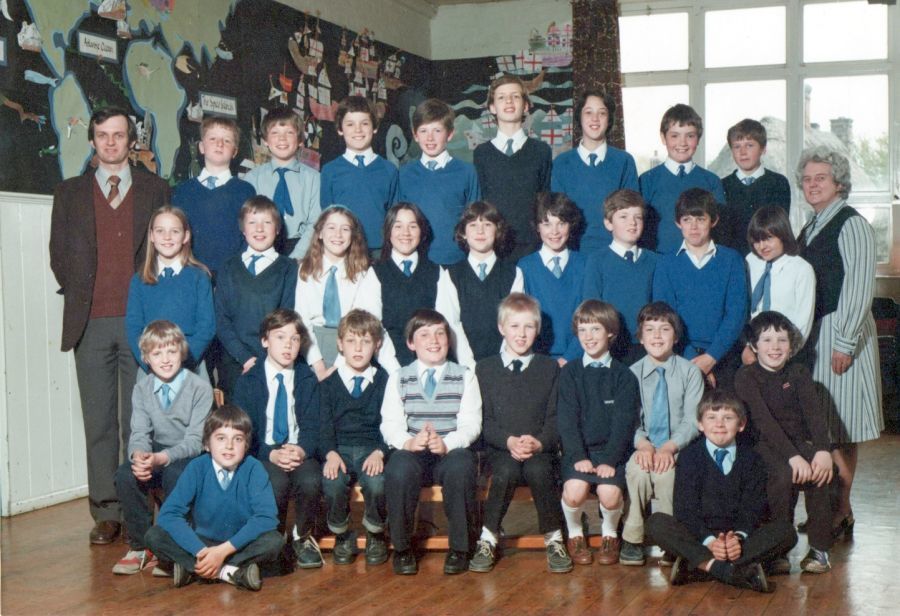 News from Australia!
January 2015
Hello, I am writing to you from Australia, where I have been living, with my family since 1968. I thought you may be interested to see these photographs. My brother, sisters and I spent our summer holidays in Gransden in the late 1950's.
We stayed in the school house, with our Aunt and Uncle, George Threader (the headmaster) and his wife Florrie. The black and white photos were taken back then, including the one with my brother and me and the Threaders.
The colour one on the school porch [is] when we visited the UK on holiday. I used to enjoy helping with the "library" which was held once a week in the school.
We attended the church, on Sundays, where my Uncle was also a Lay Preacher.
The ink sketch (below) was drawn by Mr Anderson, who ran the village shop at the time, with his wife.
One of our highlights was catching the weekly bus to St Neots market, where my Aunty and Uncle would buy a big slice of veal, ham and egg pie to bring home for lunch, and they would do their shopping at Anderson's on the way home.
We lived down near the South coast and Aunty and Uncle would come down to pick us up, and we would enjoy our train ride up to Sandy, where Mr Eastwell (senior) would pick us up in his taxi and take us to Gransden. Mr Eastwell ran a bit of a market garden, and his daughter in law was the local hairdresser, her daughter was Cherry-Lynn, who we girls used to play with. The Eastwells lived in the cottage opposite the school, and there was a lovely elderly lady, Mrs Blandford, who lived in one of the cottages down the road.
The alms houses were still there, although only a couple were occupied. The local show was held in the field next to the school, further down the lane. We used to walk across the field to the Bakery every day, the people who ran it had a pet fox. The smell of the bread cooking was amazing. I hope the house is still there, I loved looking out of the window, up in the roof over the fields, I guess it would have been modernised by now though.
I will always remember my time in Gransden with fondness, and wonder if any of the old names are still remembered. Perhaps some of the members will remember Gransden as it was then, and the children may be interested in the stories. I would be interested in hearing from them.
Best wishes, Mrs Ann Gregory
---